There has been plenty of coverage about the Welsh Government's acquisition of Cardiff Airport. Earlier this week we saw how the number of passengers has just dipped below one million per year.
Further down that BBC story there's an interesting quotation from Eluned Parrott who is the local Liberal Democrat Assembly Member:
[…] Welsh Liberal Democrat business spokeswoman Eluned Parrott had hoped Mrs Hart would bring forward plans for an express bus service from central Cardiff to the airport.

"This bus link is vital," she said.

"A direct high quality bus service from Swansea to Bristol Airport via Cardiff will shortly be launched without any taxpayer assistance.

"The Welsh government really does need to start their service, which was first announced almost four years ago, as soon as possible." […]
This express bus seems like a very good idea to us at the Stop The Spur campaign. Whereas people often like to take a car or at least get a car lift to ease transport of luggage, an express bus could be a good value method of increasing local travel options. It comes without the serious problems associated with a rail spur (burden on the rail line, significant damage to the local environment and huge financial costs – to name three!).
Here's another thing that would improve local transport options. We in the Vale of Glamorgan are all looking forward to the twice hourly rail service that will run on the Vale line, which is scheduled to begin in 2014. It will mean you can get to the Rhoose Cardiff International Airport station by train and then jump on the excellent shuttle bus between the station and the airport. People tend to forget about the shuttle bus – it's a reason why a rail spur as suggested in the old Local Development Plan is just not needed.
We offer these comments advisedly though. A new express bus service running from Cardiff centre, while welcome, would not be enough to revive the airport. As the airport management and others have said repeatedly, there is a relative shortage of air routes and flights. Only when the airport manages to attract more operators and extend the choice available will we start to see a real change in fortunes.
Transport to and from the airport, while relevant to the discussion, is less of an issue. As we've highlighted before, when surveyed only 3% of customers stated that accessibility of the airport was a reason not to choose Cardiff Airport compared to 57% citing choice of destinations or choice of flights as the reasons for picking another airport. It makes complete sense when you think about it. Here's the pie chart from that market research which we reproduced last year: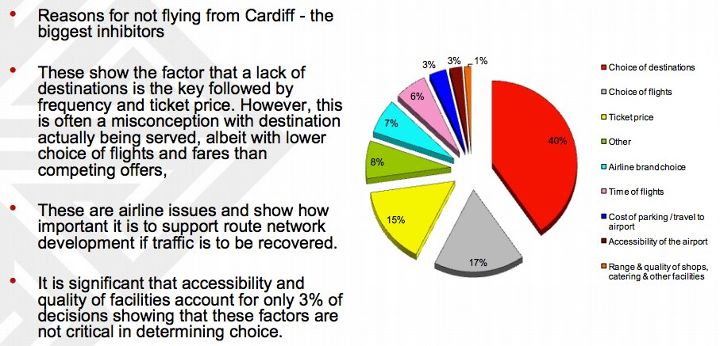 By the way there's a fuller comment from Parrott about the express bus proposal, on her website. It's a good time for her to be reminding the Welsh Government of this proposal – and it would be superb to see the express bus happen.