Thank you so much to everyone who signed the Stop The Spur online petition! A total of 481 people signed the petition to express their opposition to the rail spur proposal in the Vale of Glamorgan's local development plan.
We went with farmer Gethin Jenkins to the council offices in Barry this afternoon to deliver the petition:
And here's our receipt from the clerk.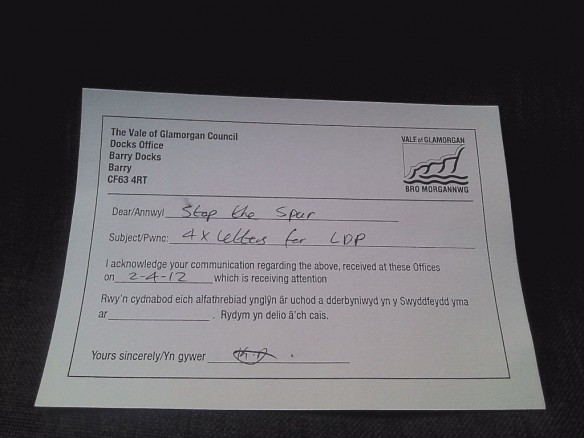 Today's 5PM consultation deadline has now closed and our online petition is now no longer accepting signatures.
We now leave this issue with the Vale planning department. If and when there is further news of the proposal we will update you via this website in the coming weeks and months. We are not 100% at this stage if we will need to campaign further in other ways. Let's hope the planners recognise the validity of our arguments and the number of people (mostly local to the Vale but not exclusively so) who have put their names to them.
Optional highly detailed bit:
You might have spotted that the receipt refers to four separate letters submitted by our campaign. These are four identical feedback forms each with the petition text and signatures. The only difference between them are the policy numbers. The Vale of Glamorgan Council specifically requests that one objection per policy number is submitted and the rail spur covers four different policy numbers – SP7(1), SP2(3), MG13 and MG20(5). So that's the format we used for the feedback from the Stop The Spur campaign.
Enjoy the sun!
(Maybe you could make a visit to Porthkerry Park to remind yourself what a precious environment we share in the Vale of Glamorgan.)
🙂